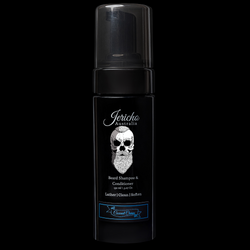 Jericho Australia
Jericho 2 in 1 Beard Shampoo & Conditioner 150ml Coconut Cream
Description 

Normal shampoo or soaps are simply not suited for your beard and face. They will only dry out your skin and hair, potentially causing you irritation and beardruff. That's why we've specially formulated a wash designed for you and your beard. 
The Jericho Coconut Cream Beard Wash is a 2 in 1 Shampoo & Conditioner, formulated to thoroughly clean and hydrate your beard. 
Scent

A smooth, creamy and warming scent that will keep your beard smelling clean and looking fresh. 
Directions
Shake before use.
Dispense foamer slowly with your desired amount and massage into your beard. Leave in for a minute or so before rinsing with warm water. Use 1-3 times weekly, depending on lifestyle.
For best results, follow up with your favourite Jericho Beard Oil, Butter or Balm.
Ingredients
 & information
Purified Water, Organic Castille Soap (Organic Helianthus Annuus (Sunflower) Oil, Potassium hydroxide, Organic Olea europaea (Olive) Oil, Organic Linum Usitatissimum (Flaxseed) Oil, Organic Glycerine, Organic Elaeis Gulneensis (Palm) Oil), Almond Oil, Grapeseed Oil, Sunflower Oil, Essential Oil, Fragrance
Free of SLS, SLES, Parabens, Sulfates, Mineral Oils, Phthalates, Formaldehyde, PEGs 
Hand Made in Brisbane, Australia
Store in a dry, cool place
For external use only
Patch test before use
If shampoo gets into your eyes, wash with water. 
Shelf life- We recommend using Beard Shampoos within 6 months of receiving
Vegan Friendly & Cruelty Free
If you're a beginner to Beard Care or just wanting a basic guide to a good routine then keep reading 🧐
You can start by applying Beard Oil followed by Beard Balm in the morning and a Beard Butter before bed after your shower.
You can also choose to use a Beard Butter in the morning instead as it does offer the same benefits. Butter also offers a light and natural hold as for styling as well.
The main point to remember is that every beard is different, you will work out the best routine for you after some trial & error.
Beard Balms are mainly for styling. They have a high beeswax content which is the main ingredient for hold and shape. They also work to lock in moisture. Perfect to use before work/going out or if you're wanting to tame those fly away hairs. 
Our Beard Butters are a deep conditioner for your beard and skin. They will soften the hairs while keeping your skin moisturised and hydrated. If you haven't tried Beard Butter yet, we know you will love it ! Great for helping with itchiness, irritations & dry flaky skin (beardruff). 
Use our 2in1 Beard shampoo & conditioner 1-3 times weekly, depending on your lifestyle. It will clean your beard & skin while also softening the hairs using natural and nutrient rich oils. 
Remember to brush daily as it exfoliates the skin beneath your Beard whilst promoting healthy hair growth. Always try to use a quality Beard Brush instead of a synthetic or plastic one. 
If you're looking for a deeper exfoliation, use our Coffee Beard Scrub in the shower. It can really help with dry, flaky skin. 
Combs are a great weapon to use to detangle any unruly/knotty beard hairs. 
We hope this helps !
If you have further questions please reach out to us, we are happy to help
Whats the difference between Beard Balm & Beard Butter?
Beard Balms are essentially a styling product. One of the main ingredients in Jericho Beard Balm is Beeswax, which allows you to add hold and shape to your Beard. Other ingredients include Shea Butter, Nutrient Rich Oils & Lanolin which in combination work to lock in moisture for the day.
Great to use after Beard Oil.
Beard Butters are a deep conditioner for your beard. They work to soften the hairs, while deeply moisturising the skin beneath, resulting in a healthier Beard !
Butters also offer a natural / light hold for styling purposes.
What order should I use the products in?
There is no right or wrong answer to this question. Every beard is different so only you will work out the best routine that works for you.
A simple guide to get you started may look like using Beard Oil in the morning followed by Beard Balm.
Use Beard Butter before going to sleep or on its own when you feel like its required. Shampoo your beard 1-3 times weekly depending on lifestyle.
Make sure to brush / comb your beard daily.
When do I Straighten my beard and what products do I use?
Oil, water and heat simply do not mix. so we recommend straightening your beard when it is completely dry. 
After straightening your beard we suggest using Beard Balm or Beard Butter. This will help to lock the hairs in place for the day and allow them to stay straighter for longer.
If you do want to use Beard Oil before we recommend using it 30 minutes before straightening. Beard Oil also acts as a heat protectant.
Do you have any products that help with beard growth?
All of our Beard Oils, Beard Butters and Balms are made up of natural ingredients with properties that promote healthy hair growth. A full list of ingredients can be found on our website.
However there is no magical ticket to beard growth. Genetics is key at the end of the day.
If you look after the hair and skin underneath then you give your beard the best possible chance to grow to it's full potential.
Also there are a lot of scams/false hope products out there, so just be cautious.
Smells great and works well
Jericho products
Hi found Jericho products around 4 months ago as i have only been growing my beard for6_8 months and y wife brought me the 2in1 beard shampo &conditioner coconut cream and it beats normal shampoo and conditioner hands down and smells great ,so now have purchased more 2in1 and the beard butter and cologne ,love the product and wil definitely be buying more in the near future and beyond
Cheers Jericho for great products, Phil J
Beard Shampoo & Conditioner Coconut Cream, my type of product!
I'm always a sucker for Coconut smelling products from air refreshes to Reef tanning oil and this has made the list! I love the fact it's a foam aswell rather than a paste so it's feels better applying onto my beard in the shower....top job jericho 👌👍
Great product
Great product have been using for a while and love it.