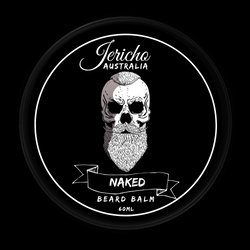 Jericho Australia
Naked Beard Balm 60ml (Unscented)
Description 
Our Beard Balms are designed to style, shape & hold your beard. They are made up of ingredients such as beeswax, shea butter & nutrient rich oils. Beard Balm works to tame fly away hairs, it also helps to lock in moisture.
When to use
Perfect for times when you want to look more groomed- work/going out.
Ideal to use after your Beard Oil to lock everything in place.
Scent

Not a fan of scented Balms or simply don't want your Balm clashing with your favourite cologne? Get all the benefits minus the scent with our Naked Beard Balm. Completely unscented and fragrance free !
Directions
Using your thumbnail/fingertip - Scrape out a small amount of balm and rub into your palms until smooth. Massage through your beard in an upwards motion first, then back down to style as desired. Enjoy your day !
Ingredients
 & information
Natural Beeswax, Shea Butter, Almond Oil, Grapeseed Oil, Sunflower Oil, Avocado Oil, Organic Hemp Seed Oil, Lanolin
Hand Made in Brisbane, Australia
Store in a cool, dry place 
Patch test before use 
Shelf life- We recommend using Naked Beard Balm within 12 months of receiving
If you're a beginner to Beard Care or just wanting a basic guide to a good routine then keep reading 🧐
You can start by applying Beard Oil followed by Beard Balm in the morning and a Beard Butter before bed after your shower.
You can also choose to use a Beard Butter in the morning instead as it does offer the same benefits. Butter offers a light and natural hold for styling.
The main point to remember is that every beard is different, you will work out the best routine for you after some trial & error.
Beard Balms are mainly for styling. They have a high beeswax content which is the main ingredient for hold and shape. They also work to lock in moisture. Perfect to use before work/going out or if you're wanting to tame those fly away hairs. 
Our Beard Butters are a deep conditioner for your beard and skin. They will soften the hairs while keeping your skin moisturised and hydrated. If you haven't tried Beard Butter yet, we know you will love it ! Great for helping with itchiness, irritations & dry flaky skin (beardruff). 
Use our 2in1 Beard shampoo & conditioner 1-3 times weekly, depending on your lifestyle. It will clean your beard & skin while also softening the hairs using natural and nutrient rich oils. 
Remember to brush daily as it exfoliates the skin beneath your Beard whilst promoting healthy hair growth. Always try to use a quality Beard Brush instead of a synthetic or plastic one. 
If you're looking for a deeper exfoliation, use our Coffee Scrub in the shower. It can really help with dry, flaky skin. 
Combs are a great weapon to use to detangle any unruly/knotty beard hairs. 
We hope this helps !
If you have further questions please reach out to us, we are happy to help
Whats the difference between Beard Balm & Beard Butter?
Beard Balms are essentially a styling product. One of the main ingredients in Jericho Beard Balm is Beeswax, which allows you to add hold and shape to your Beard. Other ingredients include Shea Butter, Nutrient Rich Oils & Lanolin which in combination work to lock in moisture for the day.
Great to use after Beard Oil.
Beard Butters are a deep conditioner for your beard. They work to soften the hairs, while deeply moisturising the skin beneath, resulting in a healthier Beard !
Butters offer a natural / light hold for styling purposes.
What order should I use the products in?
There is no right or wrong answer to this question. Every beard is different so only you will work out the best routine that works for you.
A simple guide to get you started may look like using Beard Oil in the morning followed by Beard Balm.
Use Beard Butter before going to sleep or on its own when you feel like its required. Shampoo your beard 1-3 times weekly depending on lifestyle.
Make sure to brush / comb your beard daily.
When do I Straighten my beard and what products do I use?
Oil, water and heat simply do not mix. so we recommend straightening your beard when it is completely dry. 
After straightening your beard we suggest using Beard Balm or Beard Butter. This will help to lock the hairs in place for the day and allow them to stay straighter for longer.
If you do want to use Beard Oil before we recommend using it 20 minutes before straightening. Beard Oil also acts as a natural heat protectant.
Do you have any products that help with beard growth?
All of our Beard Oils, Beard Butters and Balms are made up of natural ingredients with properties that promote healthy hair growth. A full list of ingredients can be found on our website.
However there is no magical ticket to beard growth. Genetics is key at the end of the day.
If you look after the hair and skin underneath then you give your beard the best possible chance to grow to it's full potential.
Also there are a lot of scams/false hope products out there, so just be cautious.
Perfect
So glad they finally have an unscented balm. They have been difficult to find. Just the right consistency and does it's job well
Balm vs Butter??
I have tried both now. Butter seems better for me skin under the beard, but I prefer the feel of the beard with the balm and the shape tends to hold a bit better. Great service and I love the option of unscented.
Fantastic product, even better customer service. Thank you Josh!
There are a lot of beard products on the market today so it is easily to get confused and distracted.
I was looking for a product with a firm hold that was unscented and all natural. Look no further because Jericho has you covered. As I was unsure of the level of the hold this product had, I decided to write an email via the "Contact Us" section of Jericho's website, I was surprised to quickly receive a friendly response from Josh who gave me some great advice.
My unscented "Naked" beard balm arrived promptly and was well packed. It even included a free fridge magnet! The balm comes in a metal tin and is discreetly labeled.
I went through my usual daily beard routine (washing my face with warm water, towel dry, moisturize, apply beard oil, wait for 5 minutes and then lock in the goodness with a beard balm) and upon application (you only need a pea sized amount) of Jericho's beard balm it really had little to no scent (which is great for those of us that prefer to use our own scents), the hold was firm and kept all my unruly hairs in control. I brushed it through and finished it by styling with my hands.
It survived some light rain as well as a commute on a windy day via the train into a busy Sydney office.
There is a light shine but it's not as oily as my Milkman products which is a welcome change. I'd describe the consistency as more waxy than oily which is perfect for me as I'm currently using Accutane for my skin and do not want something that is overly greasy.
With such great service and an amazing product, they have a customer for life. I'm excited to try their range of oils and products once I finish my existing ones.
Thanks again to Josh and the Jericho team.
Amazing Product!
The best balm I have ever tried. Cannot recommend these guys enough,
Good gear
It works well, and I like it non scented. Does not take much to work.