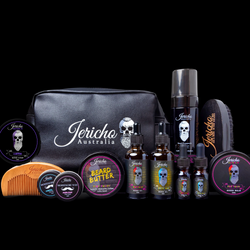 Jericho Australia
The King Of Jericho Beard Kit
To be the King, you have to look the part. 
For only $250 you're getting all of this...  (Also makes for the BEST gift ever) !
1 x 150 ml 2 in 1 Beard Shampoo & Conditioner ( of your choice )
2 x 50 ml Beard Oil ( of your choice )
2 x 10 ml Beard Oil ( of your choice )
1 x 60 g Beard Balm ( of your choice )
1 x Beard Butter ( of your choice )
1 x 100 g Coffee Beard Scrub
1 x 100% Boar Bristle Beard Brush 
1 x Wooden Beard Comb
2 x 15 ml Moustache Wax ( of your choice )
Plus a Stylish Leather Look Black Jericho Bag
Due to their natural ingredients- Beard Butters are prone to melting in hot temperatures (especially on transit). Please refrigerate for 30 minutes before opening if required. Please also store your Butters in a cool, dry place (in a drawer or cupboard).
Scents
Vanilla Liquor 
If you want to smell irresistible (seriously, ask my girlfriend)... then let this rich and memorable beard oil work for you. This hand made product will smooth and nourish your hair and the skin underneath. Your hair follicles and women everywhere will thank you.    
Peppermint
Smell fresh AF while simultaneously conditioning and styling your beard. This oil will reduce beard itch and dandruff with it's anti-inflammatory and cooling action. Boost your energy and relieve your stress with this stimulating oil. 
Lumberjack
A warm, handsome and outdoorsy scent. Featuring Sandalwood and Cedarwood essential oils. This masculine scent is hard to resist. Benefits of this oil include ingredients that work to achieve an itch-free, dandruff-free, soft and luscious beard. Show your beard the respect it deserves. 
The Godfather
Think Luxury Barber Shop. A clean and masculine scent with woody notes of vetiver, cedarwood and fir needle combined with fresh bergamot, lemon peel and musk. You will look and feel your freshest and everyone will notice. 
Coconut Cream
A smooth, creamy and warming scent that will keep your beard smelling clean and looking fresh. 
Suits & Cigars
Not too smoky and not too sweet...
Suits & Cigars is an earthy scent with hints of cologne. You seriously cant go wrong.
A taste of the tropics with coconut, lime and grapefruit with notes of lemon, vanilla bean and musk. This combo will have you feeling like you're on permanent vacation even while you're stuck at work. 
Naked
Not a fan of scented oils or you simply don't want your beard oil clashing with your favourite cologne? Get all the benefits minus the scent with our Naked Beard Oil. Completely unscented & fragrance free. 
Salted Caramel
A handsome sweet and creamy scent with a touch of saltiness. rounded out with caramel, coconut and vanilla. You'll drool, she'll drool. Everybody wins. 
Sea Salt & Driftwood
A clean, refreshing and masculine scent that will make you wanting to come back for more. This was our most requested scent of 2021. We are so looking forward to you trying it! 
Coastal Vibes
Summer, Sun, Seabreeze, Nights Out & Cocktails all mixed into one. Coastal Vibes is a masculine and vibrant scent that is a true stand out.
Morning Glory
Rich, Chocolatey and Nutty. This smells like the coffee pick me up you've always wanted. 
The Devils Rum
This Dark, Smooth and Exotic fragrance is definitely one to please. Dark & Moody, this scent profile is a mixture of earthy & floral notes such as vetiver, cashmere musk, lavender & lime. It might just be the fragrance you've been waiting for.
Green Ivy
Fresh till death, we've bottled Mother Nature. Crisp & Luxurious, this scent is one for the ages. An elite blend including notes such as Leafy Green, Citrus, Moss & Wood. Your only regret will be wishing you had tried it sooner.
Premium Panther
Sexy & Charming, the Premium Panther Beard Oil is a powerful and seductive scent. A masculine cologne type fragrance that if you try, you'll be addicted. Our Premium Beard Oil is infused with Certified Organic Pomegranate & Vitamin E Oil, which will leave your beard looking and feeling it's best. If your beard could talk, it would be asking for this. 
Premium Leo
Masculine, Powerful & Addictive, the Leo Premium Beard Oil is a must try scent. A fresh cologne type fragrance that will keep you coming back for more.
If you're a beginner to Beard Care or just wanting a basic guide to a good routine then keep reading 🧐
You can start by applying Beard Oil followed by Beard Balm in the morning and a Beard Butter before bed after your shower.
You can also choose to use a Beard Butter in the morning instead as it does offer the same benefits. Butter does offer a light hold as well. 
The main point to remember is that every beard is different, you will work out the best routine for you after some trial & error.
Beard Balms are mainly for styling. They have a high beeswax content which is the main ingredient for hold and shape. They also work to lock in moisture. Perfect to use before work/going out or if you're needing to tame fly away hairs. 
Our Beard Butters are a deep conditioner for your beard and skin. They will soften your hairs while keeping your skin moisturised and hydrated. If you haven't tried Butter yet, we know you will love it. Great for helping with itchiness, irritations & flaky skin (beardruff). 
Use our 2in1 Beard shampoo & conditioner 1-3 times weekly- depending on lifestyle. It will clean your beard & skin while also softening the hairs using natural oils. 
Remember to brush daily as it also promotes growth while exfoliating the skin underneath. 
If you're looking for a deeper exfoliation, try using the coffee beard scrub in the shower. It can really help with dry, flaky skin. 
Combs are a great weapon to use to detangle any unruly/knotty beard hairs. 
We hope this helps!
Whats the difference between Beard Balm & Beard Butter?
Beard Balm is essentially a styling product for your beard. One of the main ingredient's in our Beard Balms is beeswax, which allows you to add hold and shape to your beard. Great to use in combination with Beard Oils as it locks in moisture for the day.
Beard Butters are a deep conditioner for your beard. It will soften the hairs, taking that hardness out of the hairs while moisturising the skin beneath. Butters do also offer a hold for styling.
What order should I use the products in?
There is no right or wrong answer to this question. Every beard is different so only you will work out the best routine that works for you.
A simple routine guide to get you going starts off with using Beard Oil in the morning followed by Beard Balm. Use Beard Butter before going to sleep or on its own when you feel like its required. Shampoo your beard 1-2 times per week depending on lifestyle. Make sure to brush and comb daily.
When do I Straighten my beard and what products do I use?
Oil, water and heat simply do not mix. so we recommend straightening your beard when its dry. 
Straightening your beard works best about 15-20 minutes after a shower when your beard is dry. After straightening your beard go over the top with our Beard Balms. This will lock the hairs in place for the day and allow them to stay straighter for longer.
If you do want to use Beard Oil before we recommend using it 30 minutes before straightening. We have avocado oil in our Beard Oils which also acts as a heat protectant.
Do you have any products that help with beard growth?
All our beard oils balms & butters are made up of natural carrier oils with properties that promote and stimulate healthy hair growth. A full list of ingredients can be found on our website.
However there is no magical ticket to beard growth. Genetics is key at the end of the day.
If you look after the hair and skin underneath then you give it the best possible chance to grow. Also there are a lot of scams/false hope products out there so just be cautious.
Happy Hubby
I think it's an awesome kit for out hairy men, it's good to see that they have nice cool things to pamper themselves with.
Hubby loves it ❤️
Everything is awesome! Fiancé loves!
King of Jericho beard kit
This beard kit is everything I expected and love the God father cent.
Excellent product
Unreal my husband loves it and the smells are amazing